Fire Extinguisher Training Course
Fire safety training for work and home
Currently, only the Simulated Fire Safety courses are offered at our training facility.  Courses are available as group bookings only and are subject to facility availability. At this time we do not offer courses to individual participants.  Group bookings must have minimum 10 participants or more, there are no limitations on maximum number of students. Businesses who prefer the training to take place at their location must provide adequate space and access to water and power (any location must satisfy basic safety requirements to be determined by Act Now Corporation at the time of booking).
Fire Safety Training is offered in two different courses tailored to different needs and requirements:
1. SIMULATED FIRE EXTINGUISHER TRAINING – Cost $75.00/pp
With the ability to simulate different types and sizes of fire, this course offers you all the hands on training without the messy clean up of chemical or CO2 Extinguishers. The fire extinguisher training can be completed indoors regardless of the weather outside, ensuring you and your staff have proper safety training all year round!
How do we do it? We are a mobile training centre that uses a state of the art training system that allows realistic extinguisher training. The Bullex Bullseye Training System is a hands on Fire Extinguisher Training Program that is fun and safe to use. This exciting new course covers the necessities of fire safety and provides plenty of hands on training time.
All of our instructors are experienced fire fighters. These instructors are better able to address questions and concerns of students in the aspect of prevention, procedures and evacuation.
2. LIVE FIRE EXTINGUISHER TRAINING – Cost $85.00/pp
Train on proper fire extinguisher use with a BullEx Intelligent Training System™ (I.T.S.).  Using a controlled, propane-based fire to recreate an incipient stage fire, the I.T.S. is designed to teach the PASS method in the cleanest, safest way possible.
Designed with a unique flame-response technology that detects the trainee's aiming and sweeping motion, the system automatically varies the flame in response, providing a realistic training experience. Because the training extinguishers use readily available air and water, instead of costly dry chemical or CO2, multiple trainees can safely train in a single session.
The I.T.S. is a simpler, safer way to provide live fire extinguisher training to everyone.  I.T.S. Safely provide employers with OSHA-required fire extinguisher training at the workplace.
*Live Fire Extinguisher Training at a remote location requires a large outdoors space and a City of Calgary Fire Permit ( Permits can be arranged at an additional cost ).
Fire Safety
Fire safety training is recommended to all demographics and ages. This course should be taken by people who work in offices, warehouses, construction (trades), students, and the general public.
The Alberta Occupational Health & Safety Act, Regulation and Code (2003) specifies that workers be trained in the safe operation of equipment and that workers are competent in the safe operation of equipment (Regulation 13(1), 15(1)). Training could involve taking a course or attending a seminar offered by a competent person who is aware of the hazards associated with various operations and can offer instruction for avoiding injury.
Live Fire Extinguisher Training.
watch the video >>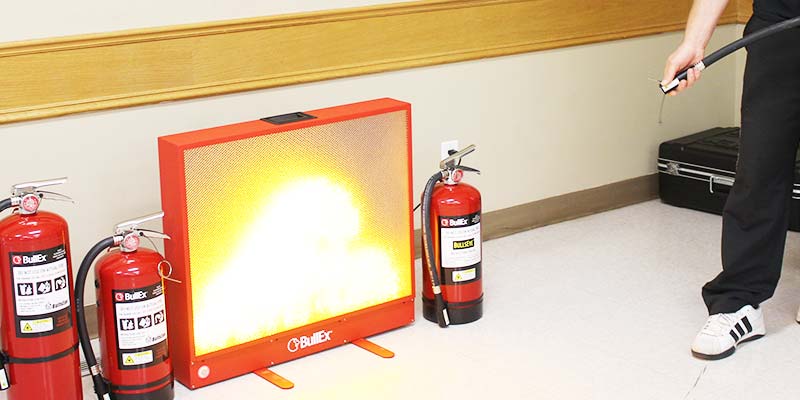 Fire Extinguisher Course Content
the list of topics the course touches are as following:
Types of Fire

Basic Fire Science

Types of Extinguishers A, B, C

PASS Technique

Home/Work Safety

Fire Extinguisher Maintenance

Skills Practice

Student Assessment

Q&A